Show Posts
This section allows you to view all posts made by this member. Note that you can only see posts made in areas you currently have access to.
Topics - andrereyes_mzt
Pages: [1]
1
« on: October 02, 2023, 06:10:55 AM »
┐Does anybody know how to instal phpldap admin on cwp?

I been looking everywhere but I cannot find any useful information.
2
« on: August 04, 2023, 05:29:04 PM »
Hi,
I having some trouble trying to create a new mailbox for a domain.
After creating a new user, I login into the account, and try to create a new mailbox, but the domain is not listed, the same happends when trying to create a subdomain, and anything else where domains are listed on the dropdown menu.
I have reinstalled OS and CWP-Panel hopping this was just a random error, but it happend again after reinstall.
I have looked into other topics but cannot find any solution.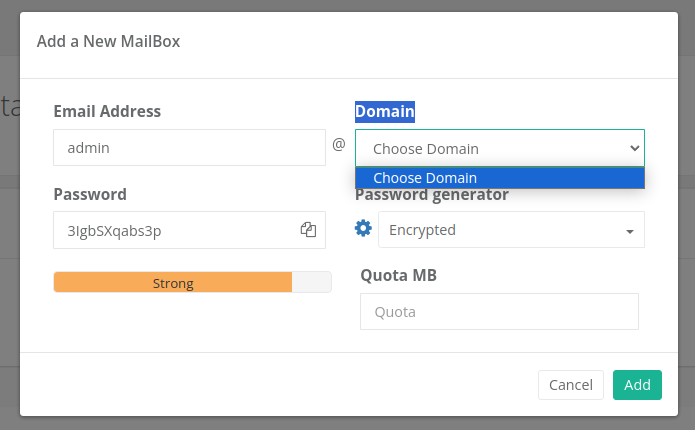 3
« on: July 13, 2019, 09:13:20 AM »
Hi,
I am having trouble using CWP User portal trying to create an email account for a sub-domain, I get the notification that the account has been created successfully, but it is never listed, neither accessible.
I used the CWP Admin portable to create the email account for the sub-domain successfully, when I access CWP User portal, I can see 2 accounts listed, the first my admin account, and then my sub domain email account, but the count shows only 1 of 10 allowed.
4
« on: January 08, 2019, 07:47:48 PM »
When I login to my domain using CWP User, I can edit my php.ini file (CWP settings -> Edit Php.ini) for my website, but this changes only apply to one folder of my website (/home/andresre/public_html), and doesn't apply to the sub-folders.

After placing the php.ini in the main folder /home/andresre then changes will apply to all sub-folders on my website.

Shouldn't the php.ini file be stored on "/home/username" folder instead directly by CWP so changes apply to all website instead of having to copy php.ini to every sub-folder?

5
« on: January 08, 2019, 07:35:49 PM »
Im using the file manager on CWP (/admin/fileManager2.php), every time I try to upload a file over 2MB, the file manager indicated the file has been uploaded sucessfully, but after refreshing the directory there is nowhere to be found, I tried with files smaller than 2 Mb and they worked fine.

I though it was a problem with PHP, so I went to edit /usr/local/cwp/php71/php.ini, I didn't change anything as settings seems right.
I have also review /usr/local/cwp/php/php.ini, and settings are fine too.

post_max_size = 64M
upload_max_filesize = 64M
max_file_uploads = 20

I am not sure were else do I have to look, as I cannot find more information in how to fix this issue.
Pages: [1]